WE ARE HERE TO CATER TO YOUR FISHING DESIRES, WHETHER YOU WANT TO CATCH A TROPHY FISH OR JUST HAVE A FUN DAY ON THE WATER.
The videos, photos and stories below will give you an idea on what to expect on our fishing trips. We look forward to hearing from you!
09/20/2011
Early Fall Muskies with T's Tackle
Check out this video of Bret Alexander and T's Tackle Musky Fishing.
03/23/2011
Late Ice Door County Walleyes
Even though we are catching fish out of the boat in the Fox River, do not put the ice fishing equipment away just yet. Monster walleyes are showing up and we are catching them as they are moving into the annual spawning grounds they use. Jigs and live bait have been doing well to catch these pre-spawn late ice Green Bay and Door County Walleyes. Come up and give it a try! Late Ice Walleyes we are on top of, so when the ice goes out we will be chasing them once again!
01/13/2011
Door County Whitefish Report
As of late we have been able to move to some of our deeper water hunting grounds to catch up with some monster whitefish, this is thanks to the cold weather and safer ice conditions (still travel with care if you are not familiar with your area). Guide trips and our popular and affordable shack rentals have been able to get in the mix with limits of whitefish daily. Depths of 40-65 feet of water for this big whitefish is what we are targeting. Gold - silver spoons, and big jigs tipped with waxies have been key.
12/31/2010
Green Bay Whitefish
Family day on the ice for milwaukee family with guide Bret Alexander on the bay of Green Bay for whitefish in Door County Wisconsin.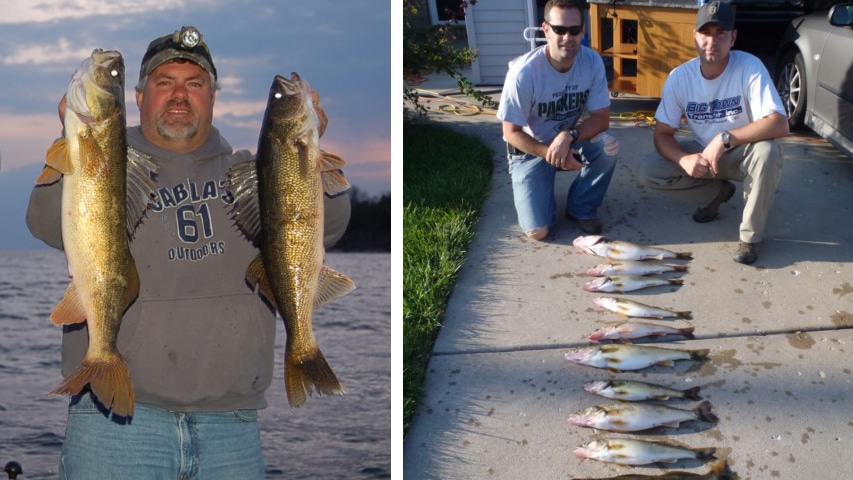 08/05/2010
Lower Bay of Green Bay
The walleye bite on the Lower Bay of Green Bay remains very good on must days with limits of 17 to 22 inch fish on most days. Larger fish are also being CPRed. Eyes on the lower bay are coming on harnesses and flicker shads. Trolling, casting and jigging are all producing fish.
The northern Door county walleye bite is also starting to come on strong, we are catching a lot of 25 to 32 inch eyes trolling large crank baits and crawler harnesses. 15 to 25 fish days in the past week with some nice fat trophy sized eyes.
The small mouth bass bite around sturgeon bay has been spotty, depends on the wind direction. The upper door county smallmouth bite has been very good with some 70 plus fish days and multiple fish over 5 pounds.
We have also started getting some very nice muskies the past few weeks and this will only get better as fall approaches. Skis are coming on bucktails and casting large crank baits.
Alexander's Sport Fishing offers the opportunity to fish with professionals having over 25 years of experience on the local waters of Northeast Wisconsin. Our knowledge of Lake Michigan, Green Bay, the Fox and Menominee Rivers, allows us to provide an exceptional fishing excursion